Millions across the country are facing a housing and unemployment emergency that is getting worse by the day. It's up to us to take action. Join our National Call tonight at 8:30 pm ET to discuss taking the steps of the Capitol and vote below on #OccupyCongress.
When the eviction moratorium expired a few weeks ago, Cori Bush and the Squad slept on the steps of the Capitol to demand an extension. They even claimed they were standing for housing as a human right. Yet, they dismissed calls for rent forgiveness and celebrated the Biden Administration's non-solution, which hinged on $46 billion in rental assistance that isn't being distributed.
Biden's extension was just struck down by the Supreme Court, who ruled that Congress needed to pass legislation. Months ago the Supreme Court had told Congress and Biden that another extension would require legislation, but the Squad still settled for a non-solution.
Millions are facing eviction again. But now, crickets. The Democrats have all left the steps of the Capitol and nothing has changed, just proving once again, we don't need heroes, we need organizers by the thousands to stand up and stand together.
The Squad had the eyes of the media and the nation. They could have demanded more. They could have called for housing as a human right. They could have pushed for legislation to protect people's homes. They could have pressured states to distribute the rent assistance. They didn't. And now they're on vacation.
Just like it was during the Rally for a People's Stimulus and #ForceTheVote, it's up to us, the People's Party. Today, on the 100 year anniversary of the Battle of Blair Mountain, one of the greatest labor uprisings in our nation's history, vote on whether the People's Party should occupy the steps of the Capitol Building and kickoff sustained actions beginning on Labor Day, Monday, September 6th, to demand housing and good-paying jobs for all. 
Friends and allies of the People's Party like Lee Camp and Jimmy Dore are ready to support our movement and even join us on the steps of the Capitol if we take fearless action to support millions in dire need. Click above to cast your vote before voting closes at 6:30 pm ET Friday. Join the National Call tonight at 8:30 pm ET with Paula Jean Swearengin, Zeynab day and others to discuss the action. Catch all of our National Calls on our YouTube channel if you miss them live.
The Squad's actions at the Capitol didn't start there. They followed a People's Party action at Alexandria Ocasio-Cortez's office in the Bronx just days earlier that demanded AOC and the Squad to use their social media following, press and celebrity to organize direct actions at the Capitol and stand up for Medicare for All and other policies they claim to support.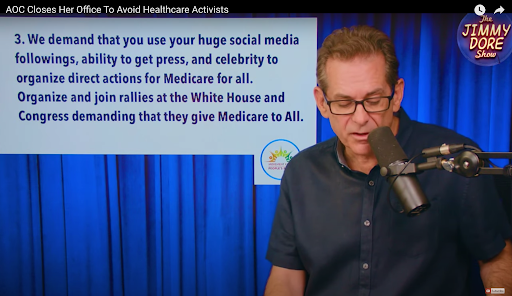 The rally made national and international news after People's Party Advisory Council member, Susan Sarandon, told The Squad that, "We're losing hope here that you represent us."
When Cori Bush hit the steps of the Capitol building The Squad were working to spread #ExtendTheMoratorium, but the incrementalist hashtag was going nowhere. The People's Party called on folks to join take the steps and #OccupyCongress, and the call #OccupyCongress went trending in a matter of hours. Folks are ready to take bold action and stand together for a movement that demands real change because we are tired of kicking the can down the road.
This evolution of events proves what millions already know — organizing CAN work, but we can't stop pushing. We can't settle for political speak, pageantry, and empty promises.
We don't know what's going to happen if we occupy, but we know we have to speak up and stand up for change NOW. Can you contribute $5 today and help us continue to organize to push for change that impacts us now?
Ironically, unemployment benefits tied to Covid 19 relief are set to expire on Labor day. This week marks the 100 year anniversary of the Battle of Blair Mountain, where thousands gathered in West Virginia to take on the abuse of the coal companies and call for labor rights and human decency, which changed the course of labor rights across the country.
When people show up, change happens. While we work to build a major new party, we have to continue to organize today to push the country forward while we all fight for a just government. Vote today, and let's stand in solidarity for change NOW. 
Yours for the revolution,
Nick Brana
National Chair
People's Party